Need a little break from deliveries?
You can easily skip or delay your next delivery! Click HERE to see how. That said, we recommend making sure you take advantage our our order reminder alerts via SMS so you can closely manage your deliveries before they are processed. Click HERE to sign up!
Is your dog not using the DoggieLawn as intended?
Did you know we offer FREE training support for our customers? You purchased DoggieLawn with the intent of making you and your dog's life easier. Don't give up! We want to help you achieve success!
Click HERE to watch our training video for stubborn dogs. 
Click HERE to schedule a personal training call.
If you do decide to cancel your account, you can do so at any time. Simply login to your DoggieLawn account and scroll down to click the orange "Manage" button next to your subscription. Scroll down the page again and at the bottom of the screen you will see the cancellation button! You may also click here to chat with us or send us an email to contact@doggielawn.com with your reason for cancellation and we will process it as soon as possible.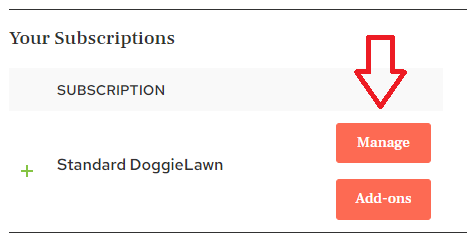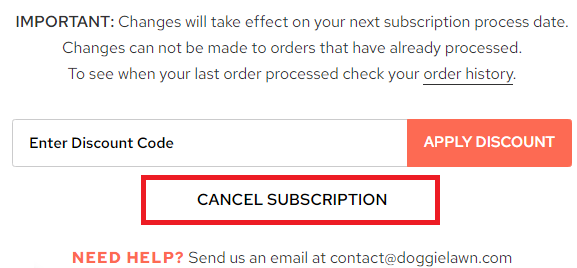 *IMPORTANT: If a cancellation request is received AFTER a shipment has processed, that shipment will still be delivered. Click HERE to find out if your order has already processed. 
Please note that we do not provide refunds, returns, or credits for any pre-paid product. If you have paid for a shipment you no longer wish to receive, we are happy to send your lawn to a friend, family member, or anyone else you think might want to give DoggieLawn a try!